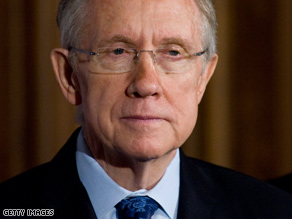 Senate Majority Leader Harry Reid apologized Saturday following reports he had privately described then-candidate Barack Obama during the presidential campaign as a black candidate who could be successful thanks in part to his "light-skinned" appearance and speaking patterns "with no Negro dialect, unless he wanted to have one."
Journalists Mark Halperin and John Heilemann reported the remarks in their new book "Game Change," which was purchased by CNN Saturday at a Washington-area bookstore. The book is slated for official release next Tuesday.
"He (Reid) was wowed by Obama's oratorical gifts and believed that the country was ready to embrace a black presidential candidate, especially one such as Obama - a 'light-skinned' African American 'with no Negro dialect, unless he wanted to have one,' as he said privately. Reid was convinced, in fact, that Obama's race would help him more than hurt him in a bid for the Democratic nomination," they write.
"I deeply regret using such a poor choice of words," Reid said in a statement to CNN. (Update 3:15 pm:Reid spokesman Jim Manley tells CNN that the senator also called President Obama Saturday afternoon to apologize for his remark.)
"I sincerely apologize for offending any and all Americans, especially African Americans for my improper comments.